PENGARUH KARAKTERISTIK INDIVIDU DAN KETERPAJANAN INFORMASI KELUARGA BERENCANA OLEH PETUGAS KB TERHADAP PENGAMBILAN KEPUTUSAN MENGGUNAKAN KONTRASEPSI ISTRI DI SUMATERA SELATAN
VIYA YANTI MALA

PERWAKILAN BKKBN SUMATERA SELATAN
Abstract
ABSTRACT
The decision to use contraception can vary according to the level of understanding of husband and wife to the concept of family planning. Therefore it is necessary to know the factors that influence decision making in the family, because this will affect the sustainability of family planning programs in the future.
In bivariate analysis (chi square test) only 3 factors have a significant effect, namely age of first marriage, area of ​​residence, and knowledge of family planning, while other factors, such as age, education, occupation, wealth quintile, number of children, taking decisions, and exposure to family planning messages by family planning staff do not have a significant effect on contraceptive use.
The results of the research show that the husband's influence is still strong in making decisions related to women's reproductive health. This condition shows the strong influence of gender and culture in a family. Perception of the value of children, namely as future investments and children as current investments affect family decisions in determining the number of children desired.
Keywords: Decision making, wife contraception, family planning
Downloads
Download data is not yet available.
References
Pengambilan Keputusan Mengenai Partisipasi Dalam Program Keluarga Berencana Pada Keluarga Muda Di Kota Malang. Jurnal Sejarah dan Budaya. Volume 7 tahun 2015.

BKKBN, 2018. Survei Demografi dan Kesehatan Indonesia 2017 provinsi Sumatera Selatan. Palembang : Perw. BKKBN Prov. Sumsel

Dagun, M. Save. 2006. Kamus Besar Ilmu Pengetahuan. Jakarta : Lembaga Pengkajian Kebudayaan Nusantara (LPKN).

Dyah Juliastuti. 2008. Pengambilan keputusan pemakaian kontrasepsi pada ibu grande multipara di kabupaten tangerang: studi grounded theory. Tesis. Jakarta : Universitas Indonesia

Kusnadi, dedek. 2015. Pengambilan Keputusan Dalam Perilaku Organisasasi. Jurnal Ilmiah Universitas Batanghari Jambi. Volume 15, No. 2 tahun 2015. Jambi : Univ. Batanghari
Latifa, Ade. 2010. Aplikasi Model Pengambilan Keputusan Dalam Perilaku Fertilitas. Jurnal Kependudukan Indonesia. Volume V, No. 1 tahun 2010. Jakarta : LIPI

Saleh, Rosmiyati Chodijah. 2013. Kajian Capaian KKB pada Target MDG's 2015 ditinjau dari Karakteristik Pasangan Nikah Muda Terhadap Jumlah Anak yang Diinginkan dan Kontribusinya terhadap TFR saat ini di Sumsel. Laporan Penelitian. Palembang : Pusat Penelitian Sosial Budaya dan Kependudukan , UNSRI.

Setiadi, Lilik Iswanto. 2015. Pengambilan keputusan penggunaan alat kontrasepsi Istri dalam keluarga . Populasi Volume 23 Nomor 1 tahun 2015.

Sumarsono, hadi. 2016. Ziarah Pemikiran Herbert Alexander Simon. Jurnal Ekuilibrium. Volume 8, Nomor 2, tahun 2013. Ponorogo : FE Universitas Muhammadiyah Ponorogo (UMPO).

Viya Yanti Mala, dkk. 2015. Faktor-faktor yang Mempengaruhi Kawin Muda. Jurnal Pembangunan Manusia. Volume 9 No. 3 tahun 2015. Palembang : Balitbangnovda Sumsel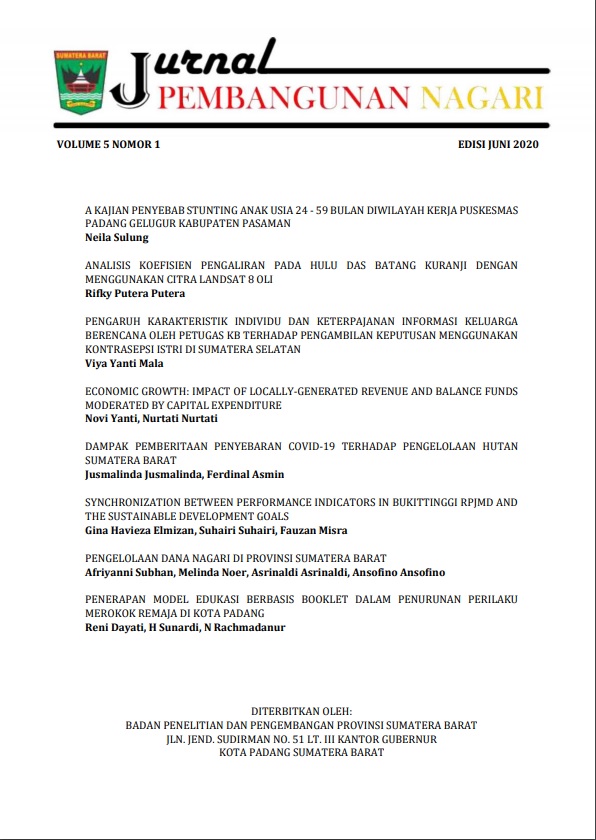 With the receipt of the article by the Editorial Board of the Jurnal Pembangunan Nagari and it was decided to be published, then the copyright regarding the article will be diverted to Jurnal Pembangunan Nagari.

We hold the copyright regarding all the published articles and have the right to multiply and distribute the article under a Creative Commons Attribution-NonCommercial 4.0 International License (CC BY NC).
The Copyright Transfer Agreement can be downloaded HERE.
please fill, sign, scan and send it back in PDF format to myus8896@gmail.com and rosdalia@gmail.com